The outbreak of the Corona pandemic has wide reaching implictions. All around the world people are trying to navigate their way through this unpredidented event. We all face changes. Big and small. We all have a different journey ahead from the one we imagined at the beginning of the year.
There is so much we can't control. It can feel overwhelming and uncertain. However, there is also so much we can control. By focusing on what we can control, we can begin to take back control.
The Change Canvas is being used in so many different ways to guide individuals, teams and organisations through their own unique journeys. It is helping them to gather insights, understand the challenges they face, carve out a new vision and identify the concrete steps that will help them move forward.
I wanted to share a few ways in which The Change Canvas is facilitating these vital conversations. It is free to download and can help you get a clearer perspective on your next steps.
I hope this will inspire and help more people to unite and find their way forward through these challenging times.
Revisiting Strategy
Every business out there right now is asking themselves, what does COVID-19 mean for us? They will need to understand the new challenges and opportunities they face, the impact and potential change this has on the pre-pandemic strategy and importantly what this means in terms of current and future activities. The Change Canvas provides a framework to facilitate these important discussions, distil the salient points and continue to review and adapt on an ongoing basis.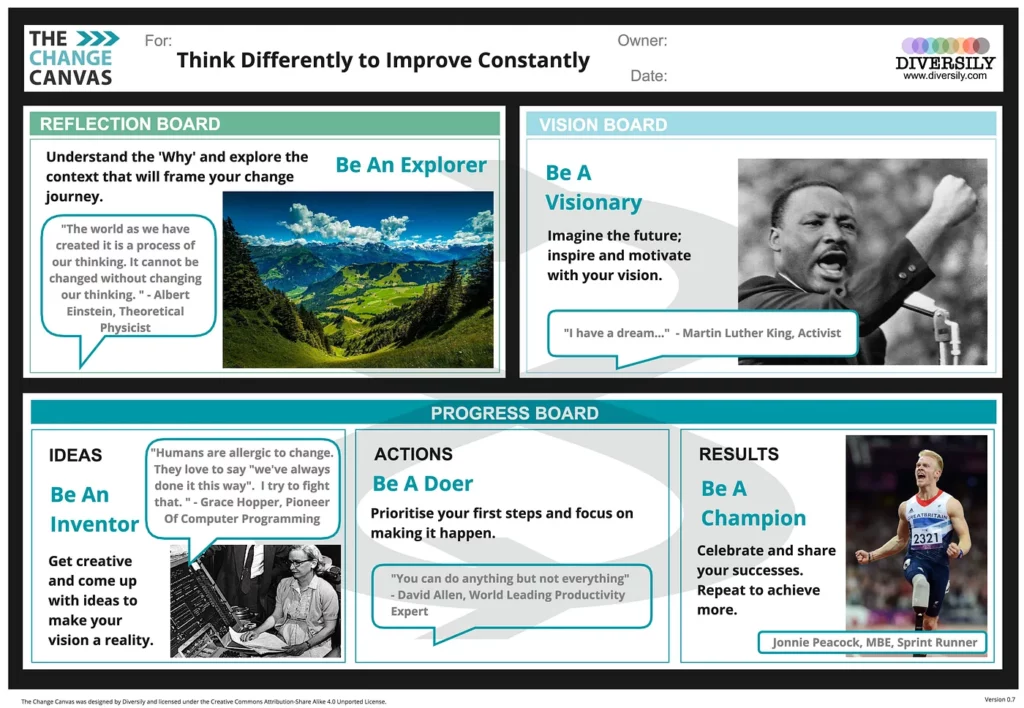 Pandemic Pivot
Many organisations have completely pivoted their offer during the crisis to help the collective forces for good. For example bio tech companies now working on COVID treatments, manufacturing companies now producing ventilators and brewers now producing hand sanitiser. For those companies it has been, and will continue to be critical that they map out their existing strengths and assets they can leverage, their new goals, the new challenges they are looking to address and the specific steps they will be taking. They will need to constantly review and revise to ensure they navigate this unchartered territory successfully. The Change Canvas provides a simple but effective framework to do exactly this.
Personal Reflection
For many, the lockdown has provided the gift of time. A chance to reflect and for self improvement. Busy lives have paused, as so many activities are put on hold. Many leaders have been using The Change Canvas to reflect on their personals leadership journey or how they can become a more inclusive leader. Others are using it for mentoring others or more general personal development goal setting and action planning.
Creating Inclusion
There has never been a more important time to ensure everyone feels included. In many ways the lockdown has prompted companies to take steps that will support more people to feel included, such as the shift to remote working and the authenticity that comes with everyone sharing a little more of their life at home. However, it is also a time when diversity and inclusion initiatives are getting pushed down the priority list and privilege gaps widen. The Change Canvas is helping teams reflect more deeply on how included people really feel and what can be done to improve. Some are using The Change Canvas with 5 simple questions to open up conversations. Others are using the Inclusive Experience Design process to conduct a more comprehensive review.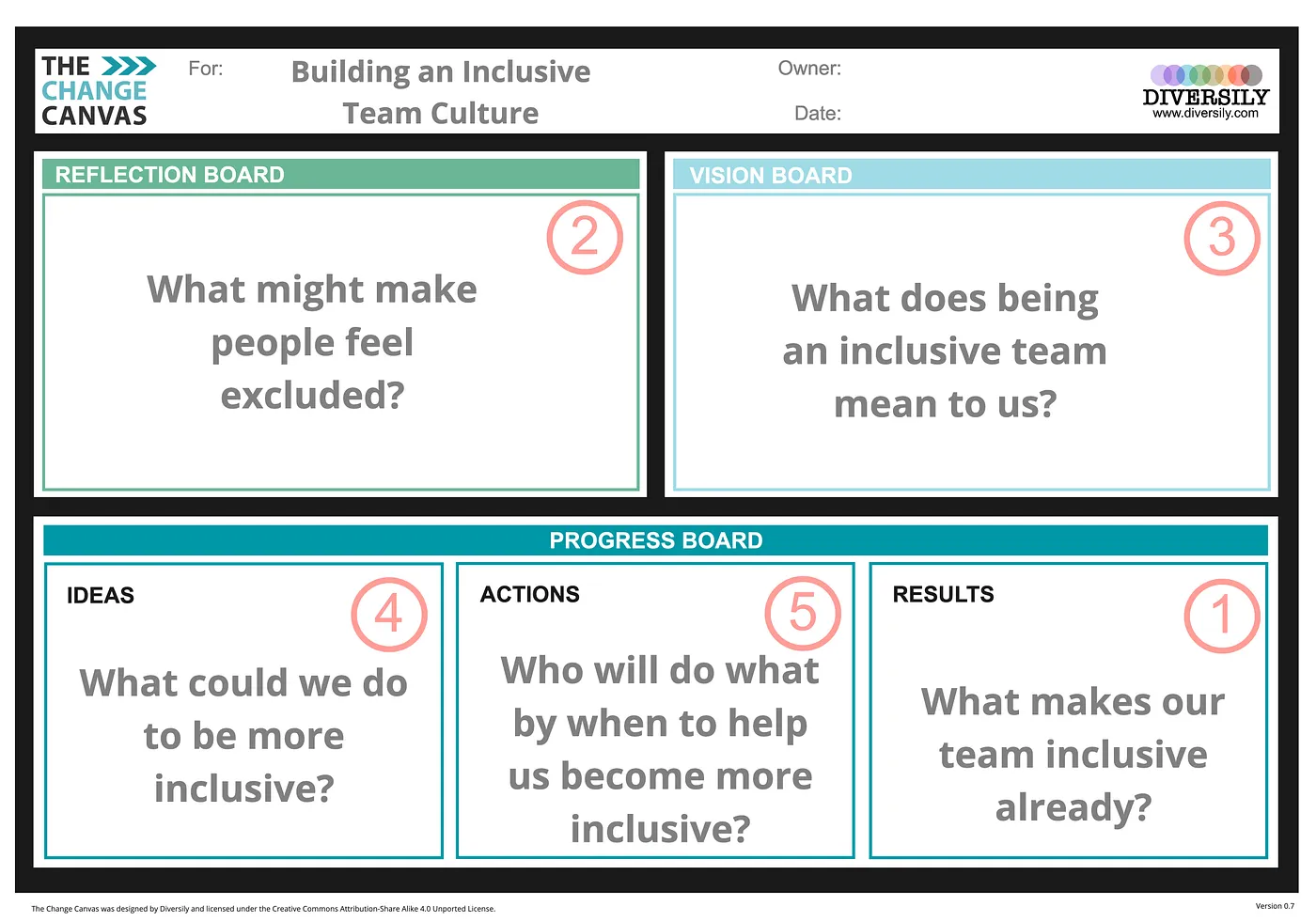 The Way We Work
With people working remotely, many for the first time, teams are taking the opportunity to review how they work together. The Change Canvas helps provide a structured way to gather anonymous feedback that can then be used as the basis for discussion to acknowledge the good and come up with ideas for improvements.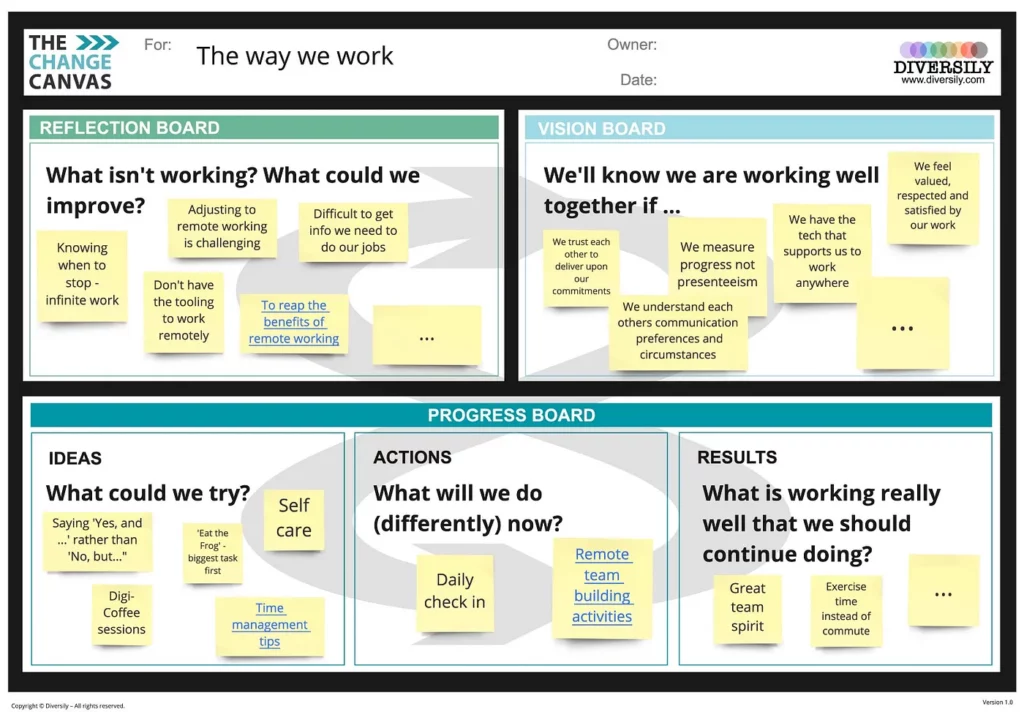 Family Lockdown
Families are using The Change Canvas to initiate important and frank conversations about how they will thrive or survive in lockdown. Bringing everyone together to get creative, share ideas and importantly make their shared commitments on what they will do to make it work. It definitely made a huge difference for my family and importantly it has given us a reference that we can keep coming back to remind us of the commitments we all made.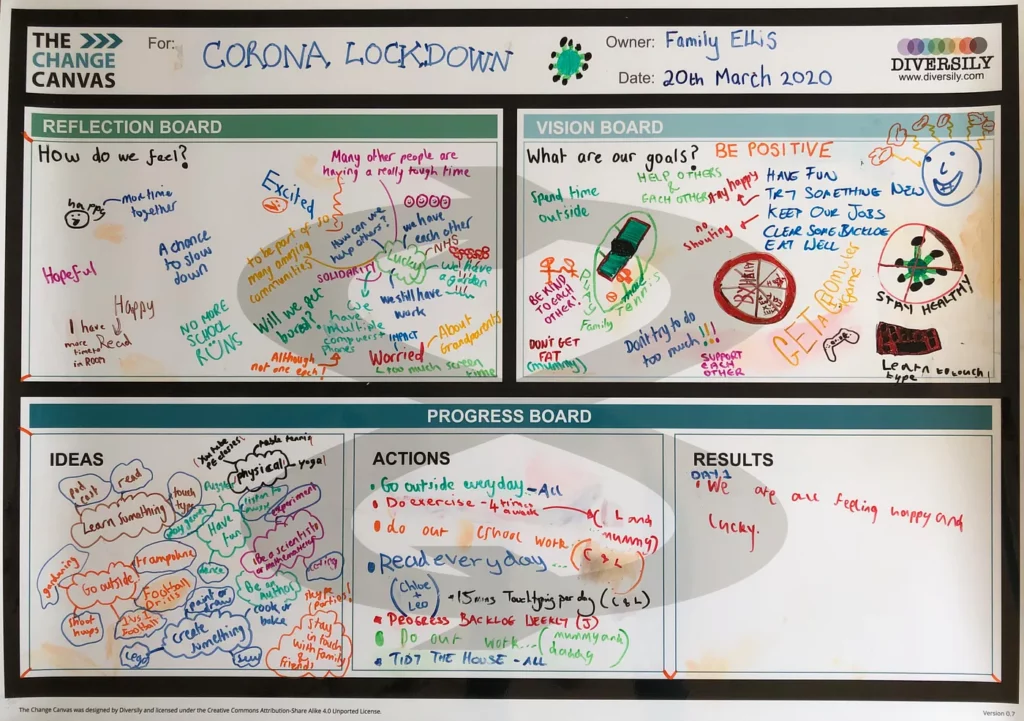 If this has been helpful please share with your network.
You can download The Change Canvas for free and learn more in one of our Change Canvas courses:
I hope you can put The Change Canvas to excellent use to find the silver lining and your positive path forward.
Please do keep sharing your use cases and feedback with hello@diversely.com
If you need further support please don't hesitate to get in touch.
To your continued success.