Diversily caught up with Spencer Collins to learn more about creating inclusive workplaces for Deaf people. Here is what he shared with us…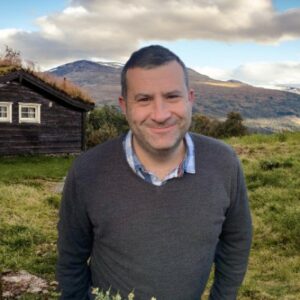 Tell me a bit about yourself, Spencer?
Deaf from birth. Besides having tinnitus 24/7, I have worked for the public, private, and non-profit sectors as a Disability Inclusion Advisor for more than 10 years. I analyse diversity and inclusion within workplace inclusion cultures. This includes reviewing all policies and procedures related to disability inclusion, from recruitment to internal communications and then evaluating the current efforts to identify areas that require improvement.
I have shared some of the challenges I have faced personally applying for jobs online. In fact one of my posts went viral with 4.8 millions views in 8 days! Sadly my experiences are echoed by other Deaf people. The process just doesn't support us. For example a mandatory request for a telephone number will exclude many people, just like me from the process. 
I am currently looking to offer or support a Workplace Inclusion Audit consultancy service within the D&I space. I am open to being contacted via LinkedIn. 
Let's start with terminology. Why does deaf sometimes have a capital letter?
When referring to a group's cultural affiliation (e.g., Deaf culture), capitalize the name. People with hearing disabilities are referred to as "Deaf and Hard of Hearing".
What are some challenges Deaf people face in the workplace?
In the workplace, the greatest challenge for Deaf people is a lack of access to programs and resources. When necessary, accommodations must be made. But sometimes colleagues and employers don't understand the significance of diversity in the workplace. Many Deaf people feel like they have no voice at work. Often ignored by employers because they are undervalued and underpaid, which is pretty common for most sectors.
What can everyone do to make life at work easier for people in their teams who are Deaf?
Employers who offer a deaf-friendly environment can foster a healthy workplace where Deaf people don't have to work twice as hard as others to prove their worth as valuable employees.
Communication is tough, as employees fail to recognise the needs of Deaf and Hard of Hearing employees or accommodate their needs. This includes telephone calls, meetings, chit-chat in the office, conferences, seminars, and other important appointments without any support.
With these helpful tips, you will be able to create a deaf-friendly workplace that encourages Deaf employees and reduces discrimination.
Good Lighting for a one to one and group.
Accessibility for communicating with employees using Zoom, Google Meets etc with a positive attitude approach.
Support services like note-taking, British Sign Language (BSL) support for meetings, minutes of meetings, among others, are available through the 'Access To Work' service.
Deaf, Tinnitus, BSL and Hidden Disabilities Sunflower Awareness Training for members of staff
More broadly, what do you think leaders need to know when it comes to disability inclusion?
As we become more aware of our unspoken biases, we must show respect, engagement and care, as well as transparency. An environment that is disability-inclusive requires a management team with a positive attitude approach that is more understanding, confident, and empathetic.
What benefits have you seen people with disabilities bring to the workplace?
Disability employees bring unique characteristics and raw talents to the workplace as well as unique perspectives that no one else can bring. It would be beneficial for employers to get creative and recruit candidates with disabilities resulting in an increase in productivity and a better working environment.
There are 11 million people in the UK who are deaf or hard of hearing. Yet there are only 151,000 BSL users in the UK. See Hear stated that some Deaf community completed their degrees in deaf studies which allow them to become sign language interpreters including some who have high-profile positions such as qualified doctors, veterinarians, chief executives, journalists, Paralympians and actors – all of which are deaf and use sign language. 
Deaf people are more likely to be unemployed – 65% of working-age deaf people are in employment, compared to 79% of the general population. Sadly I believe that back in the 1990's the Deaf community had more opportunities than they do today. However, the Deaf today have so much talent and insight that could be of benefit to employers across the country. They are willing to work hard and will contribute more than their share to our society. 
What would you recommend for anyone who wants to learn more?