Use our simple, but powerful visual frameworks to drive inclusive change.
Explore our most popular free resources
Free online course to learn about The Change Canvas, our flagship powerful, yet simple visual framework for driving change.
Free frameworks for managers to develop themselves, their teams and drive inclusive action. 
Free self assessment quiz to help you identify your priorities to build a purpose led, collaborative and inclusive culture. 
Free online course to learn how to use several Diversily visual frameworks to create inclusive experiences for diverse audiences. 
Unleash your collective potential
The power of visual frameworks
Conversation is important – but talk can be fast, fragile and disconnected. Even when we think we agree, often we have different interpretations or ideas about what has been decided. Visual frameworks allow salient points to be debated and documented. They force sense making, clarifying and summarising – which are all needed to create alignment and clarity. Their simplicity is their power. 
The Diversily Toolkit includes a number of visual frameworks to help you drive inclusive change.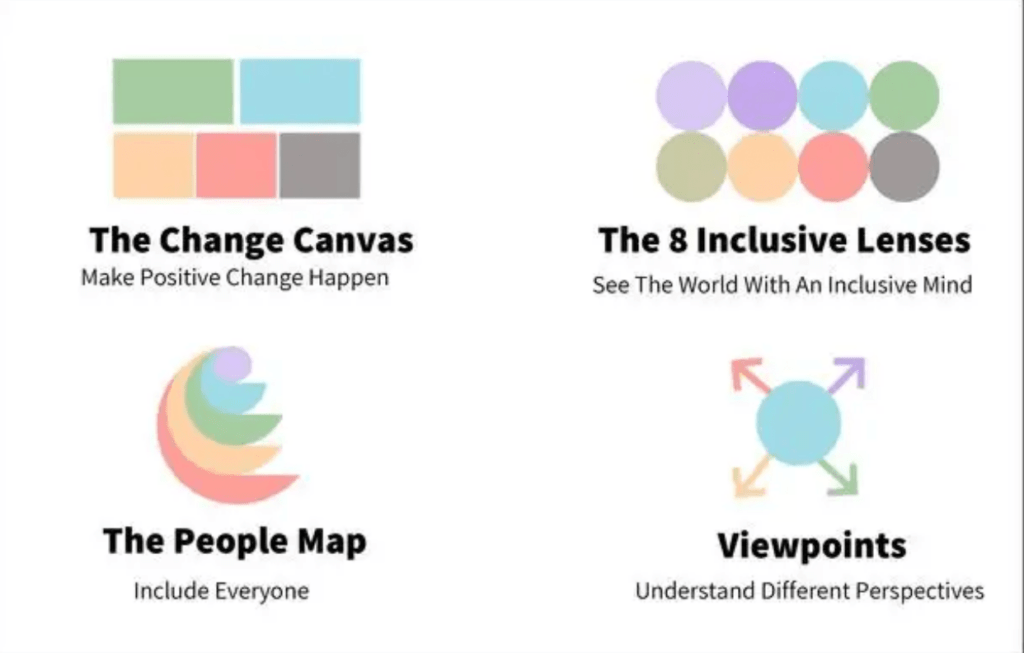 Accelerating Change All Around The World
"I urge all leaders who want to understand the culture of their organisation, to better drive change to take a look at The Change Canvas. It lets your organisation reflect, celebrate the good and build a plan for the future. It is a much needed, very useful, hugely flexible tool for everyone!"
Kevin Johnson
Expert Lead, Innovation, ING
"In the past we, as a group, used to have a ton of great ideas but no structure or clear way to tackle these ideas. The Change Canvas has supported us tremendously in focusing our thinking and prioritising our ideas to ensure that change actually happens!"
Nils Welham
Senior Financial Crime Business Consultant, SWIFT
The Change Canvas has transformed the way we work. We have been using it for a couple of years & wouldn't go back to life without it!
Richard Hillman
Head of Compliance Services, SWIFT
"I love The Change Canvas! It is an invaluable resource that helps collaboration and sharing of information. Using it at our event enabled us to capture the key points, gave focus to the summary at the end and allowed us to the share the content after the event in a visually engaging way."
Sharon Woma
Inclusion Coordinator, NHS - Bristol, North Somerset and South Gloucestershire CCG
"The Change Canvas is a great tool for getting teams to focus on their vision, and the actions and steps they need to take to get there."
Laura Stebbing
CEO accelerateHER
"We used The Change Canvas to bring together leading voices from the Virtual Reality industry to create our vision for Women in VR. I'd recommend other organisations committed to increasing diversity, inclusion and equality use it to open up conversations, set goals and unite people to take action."
Catherine Allen
Founder & CEO, Limina Immersive
"The Change Canvas is the best tool I've seen for helping you figure out your vision for diversity and inclusion in your business."
Gareth Williams
CEO, Yellow Dog
"The Change Canvas really helped our departmental Diversity and Inclusion group get off the ground. It enabled us to take disparate ideas, visions and goals and translate them into tangible steps that we could take to improve D&I in our department. We still have a long way to go but the Change Canvas is helping us to stay on track to achieve our goals."
Rachel Blainey
Content and Partnerships Manager, Oxford University Press
"We've found The Change Canvas to be a brilliant tool for people to break down their thinking and quickly come to a point of how they can drive change. It's a great way to engage people in an open discussion that feels positive and transformative"
Ben Shorrock
Managing Director, TechSPARK
The Change Canvas and handbook can be useful for so many different levels of change, from personal career development plans to large-scale organisational improvement. The simplicity of the framework makes change achievable, and the handbook brings it to life.
Aimee Skinner
Innovation Manager, Future Space
Learn more about the visual frameworks in the Diversily Toolkit. 
The Change Change is our flagship tool accelerating change all around the world. It combines reflection, vision and action into an iterative and results focused approach that gets results. Unite people on a shared mission & inspire direction, empowerment, focus and transparency. 
The Change Canvas is a simple but powerful framework for mapping out a desired change initiative. It helps you reflect on where you are today, define your vision for the future and take steps to make it happen; celebrating results along the way.  It inspires an iterative, action oriented approach that bonds people and gets results.
Whether it is personal change, organisational change or development of new products and services, change can be difficult. You can increase your chances of success by using the Change Canvas to provide focus, direction and alignment to create a shared, successful change journey for everyone involved.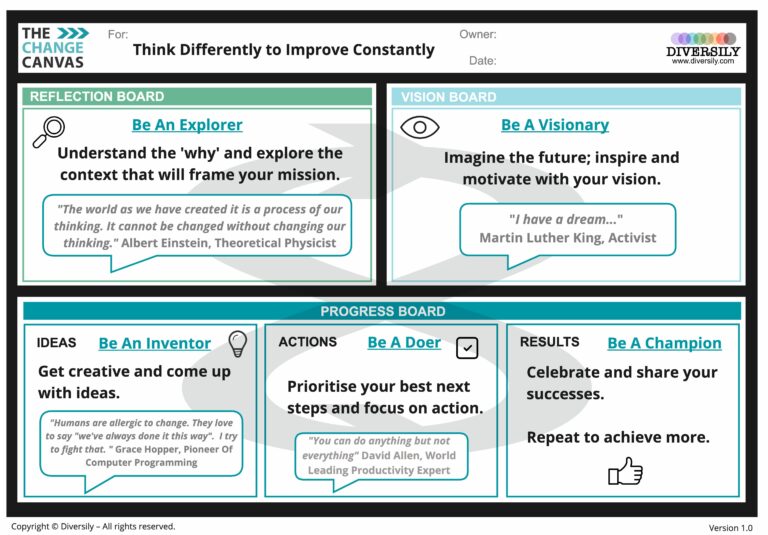 Use The Change Canvas to
lead change
change culture
develop yourself
mentor others
create inclusion
boost performance
run projects
define strategy
innovate
get results
Learn more about how organisations around the world are using The Change Canvas to unleash potential and make real progress. Example uses include powering your diversity and inclusion initiatives, strategic planning, uniting cross functional teams and running workshops. 
The 8 Inclusive Lenses is a tool that can be used to look at any situation and come up with ideas for how the environment or experience could be more inclusive & appealing to a diverse audience. Each lens covers a different angle and together they help you ensure you are operating with an inclusive mindset.
Research shows that diverse and inclusive teams perform better leading to increased productivity, greater innovation, better products, better decision-making and higher employee satisfaction. The 8 inclusive lenses can help you to find ways to embed diversity and inclusion into your business by helping you uncover potential areas for improvement.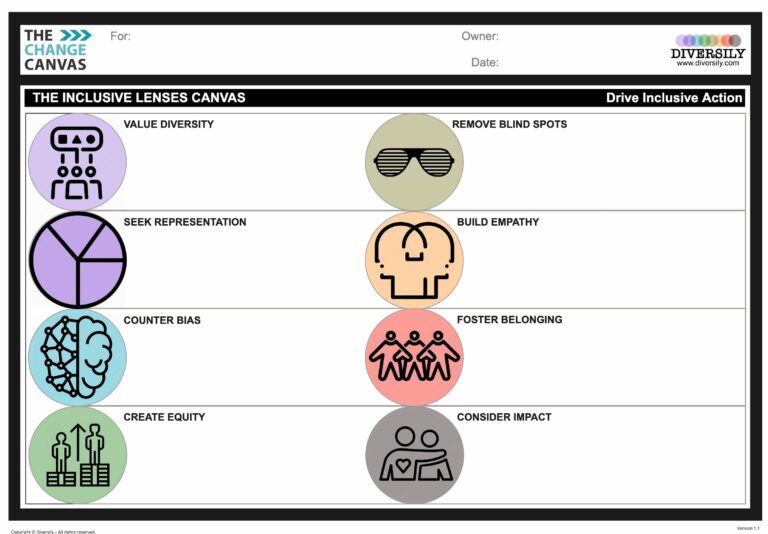 The People Map is a unique take on a traditional stakeholder map that considers evolution over time & helps you draw out perspectives of interest. It helps you think about the different players involved, but also importantly helps you identify the potentially underrepresented groups whose perspectives you'll want to consider.
Success or failure is often about the people involved. Understanding your stakeholders, individuals and organisations, now and in the future, is a fundamental step to ensure everyone is engaged. Often underrepresented voices are not heard, so explicitly calling out the groups you will focus on will lead to a more inclusive approach.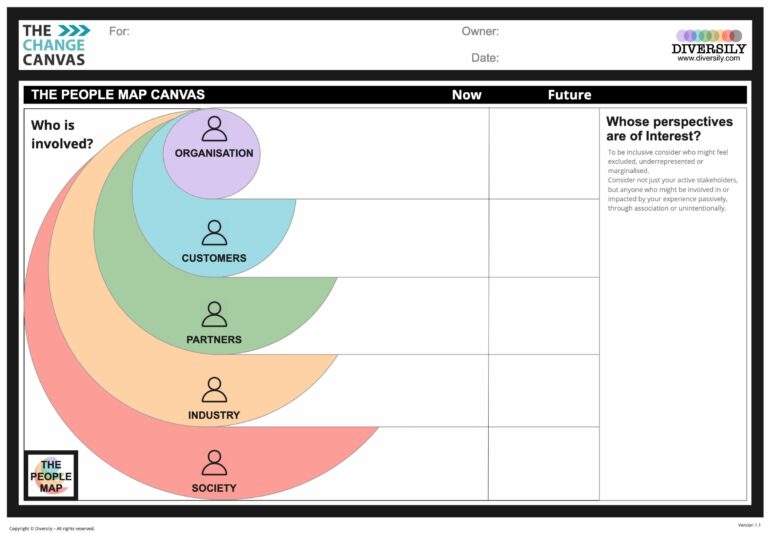 The Viewpoints Canvas helps break down the touchpoints of your experience and consider the perspectives and understand the needs of people from different, often underrepresented groups. It encourages you to actively seek out diverse views and create more inclusive solutions.
Understanding different needs and perspectives is critical to being able to create inclusive experiences & solutions that do not unintentionally exclude people within your target audience. Without careful, intentional action many voices can be left unheard leading to poor experiences, limited engagement & failed solutions.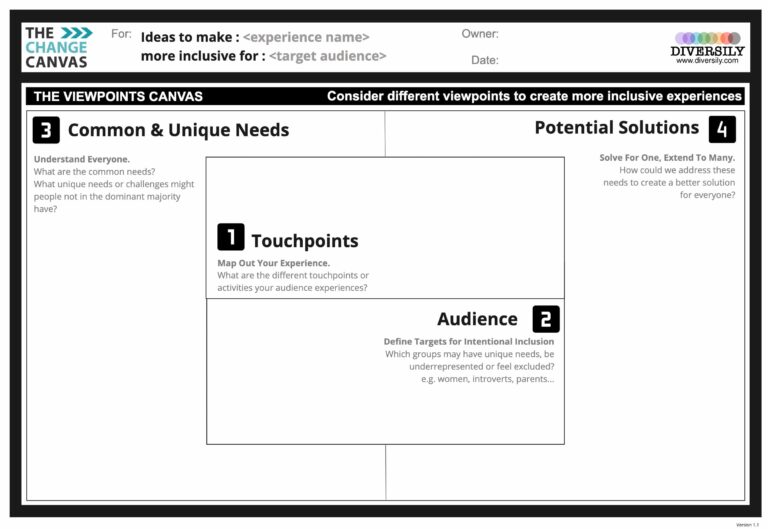 More Change Canvas Resources
Turn purpose into impact, using The Change Canvas methodology. Connect strategy to execution and unite your team to deliver results.
Free guide for workshop facilitators and event organisers on how to use The Change Canvas to engage audiences and create an impact. 
Gain focus, direction and clarity with The Change Canvas to take control of your life and make the change you want to see a reality. 
Frequently Asked Questions
Yes! All we ask is that you preserve our branding to encourage more people to use them and share your feedback. This enables us to promote inspiring stories of change and continue to keep improving our resources. 
Simply sign up to The Diversily Toolkit online resource and you can download them from there. We recommend uploading the jpgs to an online whiteboard, such as Miro or Mural, where you can gather your team to start adding virtual post it notes.